This is my second post in a series about navigating change in my role at EMBL-EBI. In my last post I covered introducing new ways of working to the team. In this post I will cover some examples of how I was able to influence stakeholders and the strategy of Europe PMC.
As well as working closely with our development team, I started to get more closely involved in the strategy and planning of work with the team leader in late 2015. This involved meeting with and presenting progress reports to stakeholders who make up Europe PMC's Governance, including a Scientific Advisory Board and Funder Committee. The Funder Committee includes representatives of the 37 different funders who range from small UK charities to large, Intergovernmental and Government agencies. Europe PMC supports the open access policies of its funders. Researchers who receive grants from Europe PMC funders can self-archive their manuscripts using the Europe PMC plus manuscript submission system, ensuring an open access version of the manuscript is freely available. Europe PMC also provides very useful data for funders to help them measure the impact of their funding.
I've broken down my examples into five main tips about how to influence stakeholders and strategy:
Provide data and evidence to build trust
Use open APIs and dashboards to showcase data
Make your work visible
Focus on impact
Show how to increase user satisfaction
Provide data and evidence to build trust
In the past conversations about work planning and prioritisation with our stakeholders could sometimes be difficult, especially when they were based on personal opinions. A few months after I joined the team I did a presentation about UX, to introduce funders to the kind of evidence-based methods I was using.
Over time, presenting evidence and insights from my user research in our regular progress reports made conversations about prioritisation much easier and helped to build trust with stakeholders. I recall one funder said in a meeting: "Let's see what your user research says about that". It felt like a real turning point!
Recruiting participants for user research can often be challenging, especially if you don't have paying customers with accounts. I often used contacts provided by colleagues to circulate requests for participants at different University departments. However, Europe PMC's users are based all over the world. Our stakeholders were concerned that my recruitment of research participants was mostly with UK participants. Whilst around 65% of my research participants were based in the UK, many academic researchers study and work in different countries to their country of origin. These are the charts I showed our stakeholders in 2016 to reassure them that I was reaching an international group of participants. Over the last few years I have done more user research with participants based in South American and African countries, to reflect the changing audience for Europe PMC.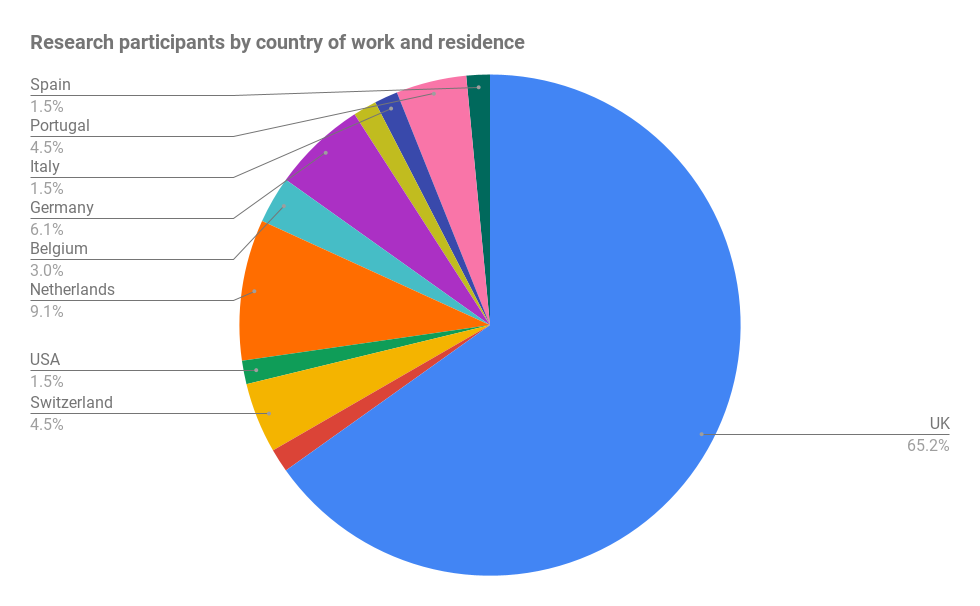 Use open APIs and dashboards to showcase data
I ran workshops for funders to help understand their needs and requirements and how Europe PMC could best support them. The two main tasks funders want to do are: to monitor compliance with open access policies and; to measure the impact of funding. Europe PMC provides open APIs and search functionality that its funders can use to analyse the impact of their funding and compliance with their open access policies. But it's not always obvious to the funders what data are available to them or how to obtain them. To illustrate the kind of data that Europe PMC can provide, I designed public dashboards for Europe PMC funders using Europe PMC's open APIs. The dashboards were complimented by webinars on how to use Europe PMC search and APIs for funders, delivered by our Helpdesk and Outreach teams.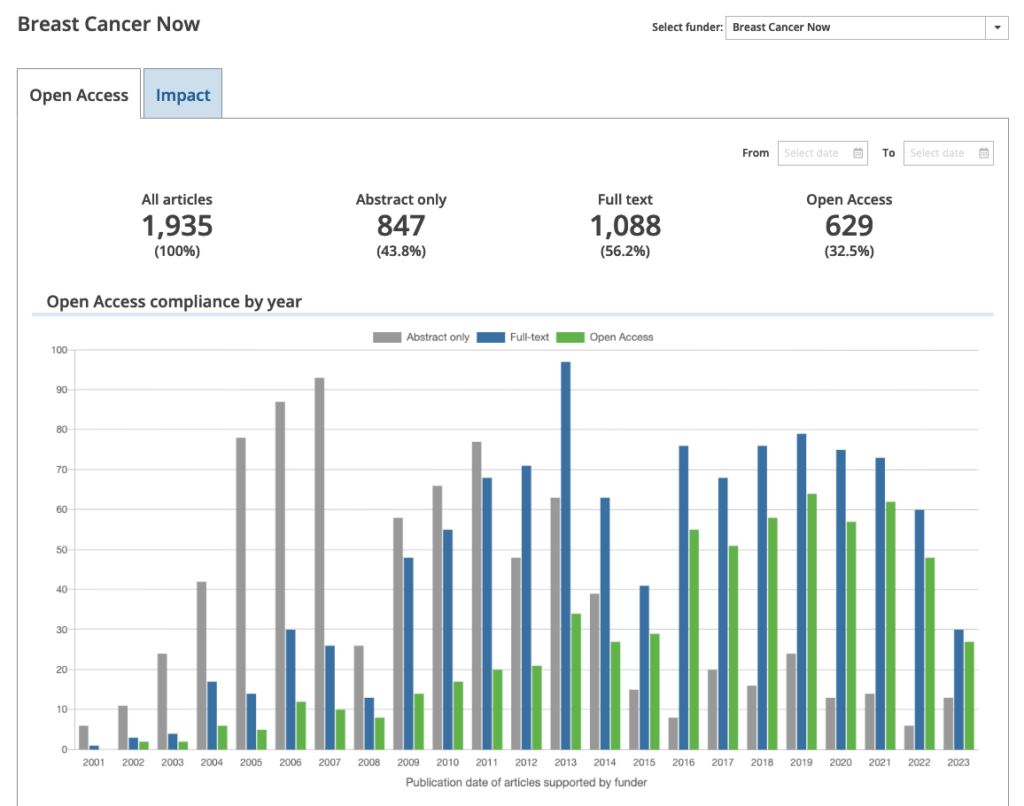 Make your work visible
In 2016 I took on a Product Manager role and was tasked with creating a public roadmap and taking a more hands-on role in the planning and prioritisation of our work. Below is my first iteration of the roadmap on a whiteboard in our offices, mapping all our work to our strategic objectives using coloured sticky dots. The strategic objectives were defined by our Team Leader in the 5 year grant application, for example "Support and lead in the development of emerging open publication workflows".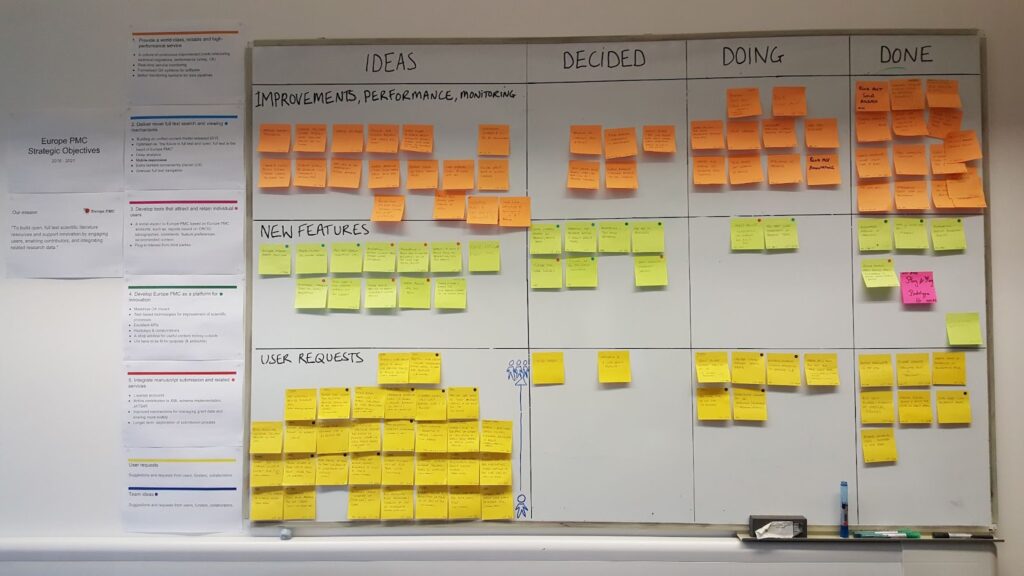 The public roadmap is updated quarterly and shows what's in progress, what the team are planning to work on and what has been completed. This ensures the work is transparent to everyone which helped build trust with stakeholders.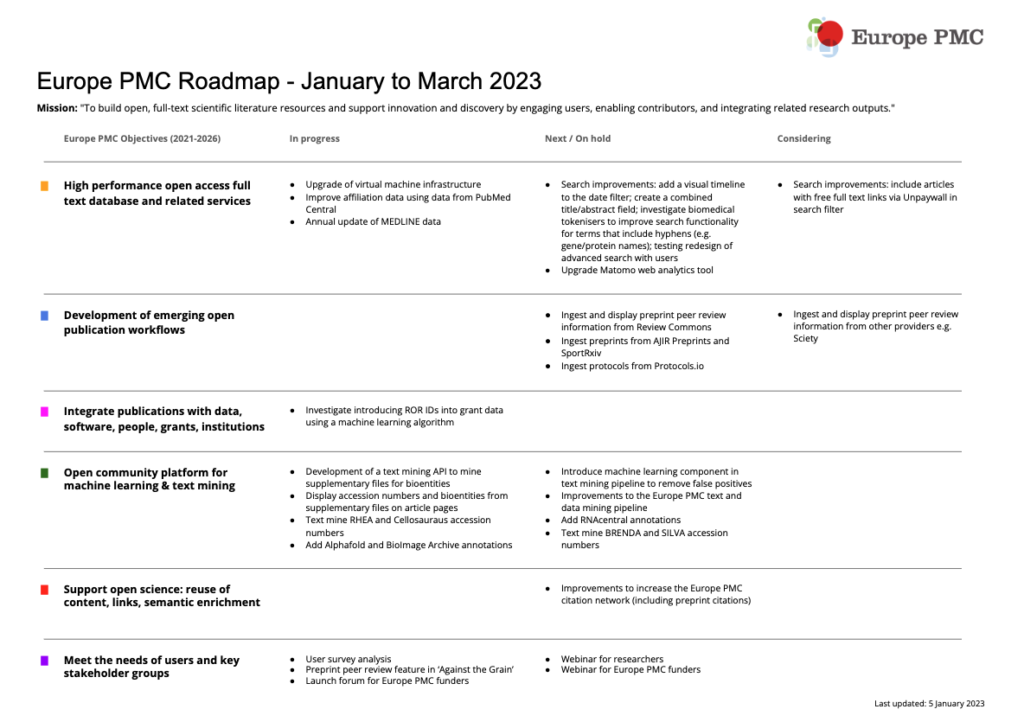 I introduced Trello as a 'work in progress' Kanban version of the roadmap, which I discussed in the first post of this series about introducing new ways of working to the team. This proved to be an invaluable tool for the team, helping us visualise and monitor progress of our work. Trello also became very useful for recording what the team had achieved each quarter, feeding into updating the public roadmap and the bi-annual reports to stakeholders.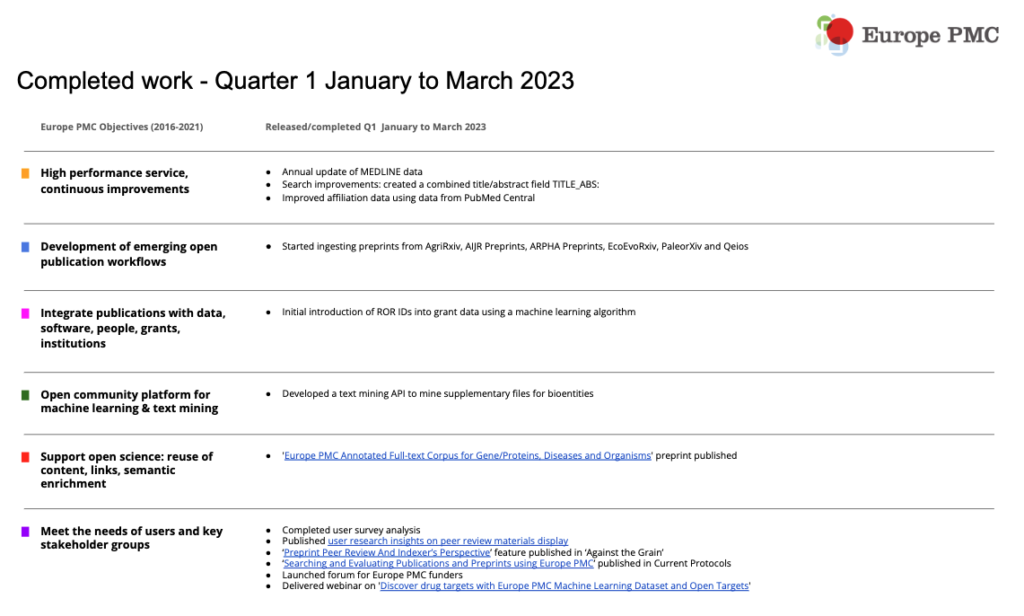 Over the years the roadmapping process evolved. I recently created this overview to illustrate how the roadmap processes fit into the overall vision and strategy development.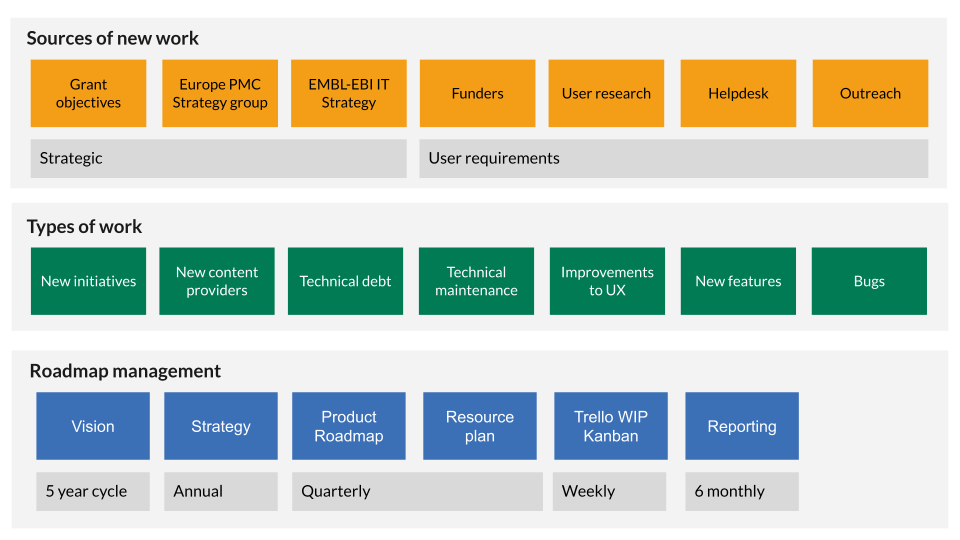 Focus on impact
I organised my first team retreat in 2016 and another in 2019. I also ran workshops for funders, partner organisations and colleagues in the wider organisation. The Gamestorming and Impact Mapping books are my go to resources for designing and planning workshop activities. I didn't realise how significant some of these concepts would be for my colleagues. My former team leader said that Impact Mapping has changed the way she thinks and that she now applies the concepts from that book all the time!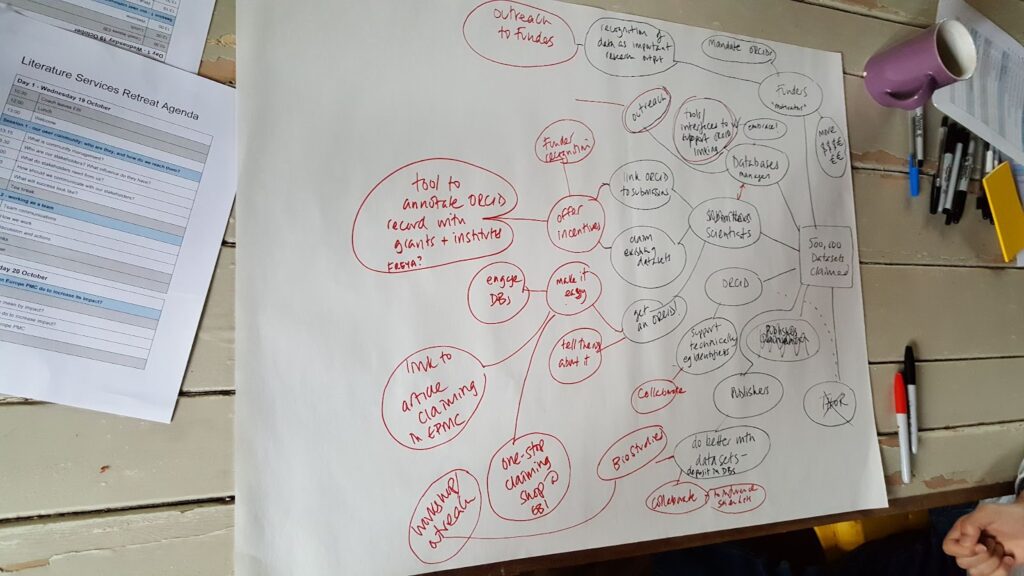 Show how to increase user satisfaction
Another tool that I used to influence stakeholders is the Kano model of customer satisfaction. My team leader had already been introduced to the Kano model by a former UX colleague in another part of the organisation and had caught onto the concept of 'delighters' to increase satisfaction over time.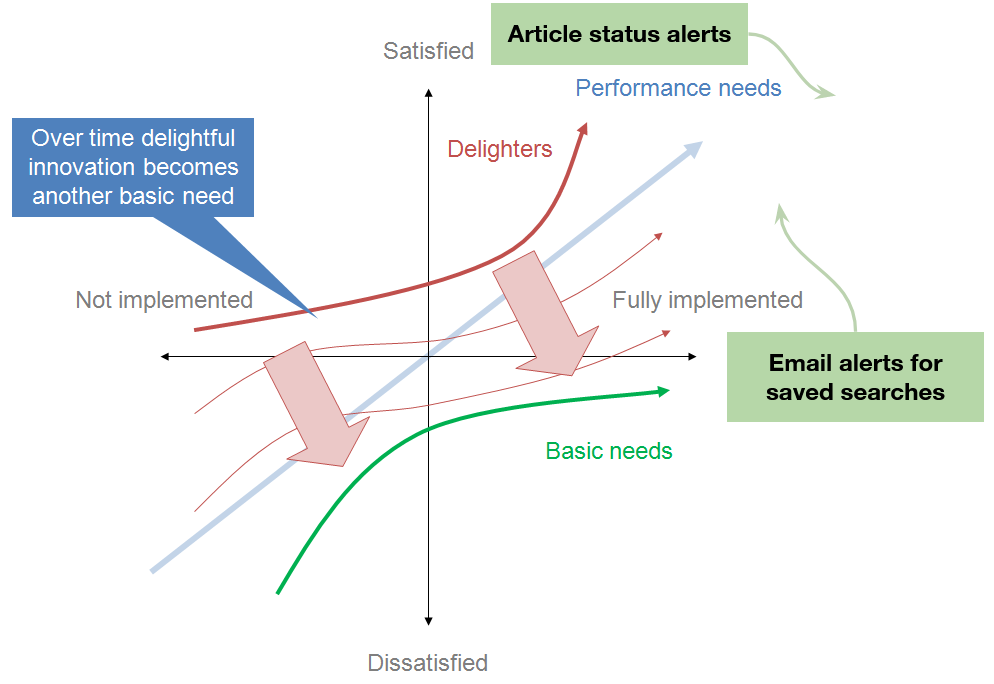 I have found the Kano model most useful to drive home the importance of meeting basic expectations for users and improving performance over time. We released a feature to enable users to save searches in 2016, but the ability to set up email alerts was left out of scope, despite my requests to make it part of the scope. I set about gathering evidence from user research and feedback via our Helpdesk to demonstrate that email alerts for saved searches were seen as a basic expectation. I heard several times in interviews that researchers wouldn't consider using Europe PMC as their main literature search tool without email alerts. Armed with my research evidence and an adapted version of the Kano model shown above, it was much easier to get the email alerts project onto the roadmap. We also managed to deliver a 'delighter' feature which provides status updates for articles and preprints.
In this post I've covered some examples of how I influenced stakeholders and strategy in my role at EMBL-EBI. In my next post I'll cover how I approached leadership during a time of change.